myARC
Tailored Learning at Catherine McAuley Catholic College, Medowie.
The College is currently developing 'myARC', a Wellbeing for Learning Framework which will be released in preparation for the commencement of 2021.
Every student has a story to tell.
A child's history, innate abilities and dispositions along with their aspirations inform the arc of their story. Catherine McAuley Catholic College seeks to meet each child where they are at on their learning journey and through honouring the uniqueness of each, assist them in personalising their learning path. 
myARC is the CMCC's learning and wellbeing framework and seeks to fulfil our moral imperative of empowering agile, reflective and confident learners. myARC provides students with the opportunity to deeply and profoundly engage in learning as they are encouraged to bring their own experiences and life knowledge into the learning process. The College responds to their needs – not the student conforming to ours.    
At its heart, the myARC framework is the bringing together of two complementary and interdepended strands in education, academic growth (what we know as Core +) and wellbeing for learning (what we know as True North). These two critical concepts are intertwined and ensure that our students are life and career ready.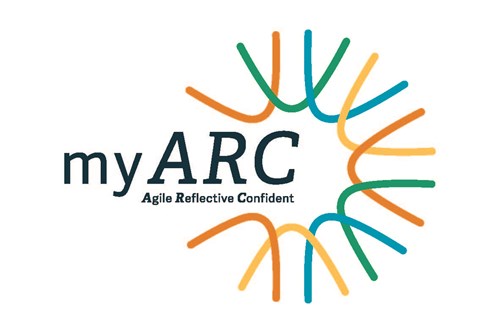 True North – Wellbeing for Learning
In ancient times seafaring people found their path in vast unknown waters by reading the night sky, a practice known as celestial navigation. An essential first step in celestial navigation is finding Polaris – the North Star. Polaris, sitting almost motionless over the north pole provide explorers an internal compass – a point that was a constant amidst an everchanging night sky. Knowing true north, one can always navigate one's way, regardless of one's starting point.
Our college seeks to assist our students in finding their own true north by honouring the uniqueness of each child, supporting them in discovering individual strengths and pathways and preparing them to be life and career ready.